Last time at the Eich household: Darren headed off to Sim State University with his steady girlfriend Melody Tinker, Ericka dappled in good magic before her final departure from this world, Tia got her first kiss and advanced to the top of the teen military career track. Unfortunately Tyrone and Julio hit some bad luck with chance cards at the end of the week which set them back on their respective careers. This week we'll see what Julio and Tyrone get up to when Tia leaves the house for Sim State
To kick off the week, Julio earned his Cuisine hobby plaque
Tyrone was also digging in the yard and found a map to a place called the Pagoda in the Shadows located in the Far East town of Takemizu Village.
Tyrone mentioned the map to Julio and then stowed it away until a later time when he and Julio could afford to take a vacation.
Tia headed off for Sim State early in the week.
With Tia out of the house, the family friend count took a big hit so Julio headed to the park to see if he could meet some new people.
At the Park Julio met Vincent Benson and Gopy GilsCarbo who he decided to invite over later that night to introduce to Tyrone.
Tyrone got a nice chance card and brought home a promotion and then enjoyed dinner with their guests.
Unfortunately, Vincent read too far into Julio's friendship and decided that he'd make a pass at Julio in front of Tyrone... needless to say, it didn't go too well for Julio! ((I was trying to get Tyrone to befriend Gopy and wasn' t paying attention to Julio and Vincent... don't you hate autonomous romantic actions?))
Julio tried to apologize to Tyrone but he ended up sleeping upstairs in Darren's old bedrooom.
Remembering the map that Tyrone found earlier in the week, Julio thought that maybe a nice relaxing vacation to Takemizu Village would help he and Tyrone patch up their relationship.
That afternoon, Tyrone brought home another promotion
The next morning the men headed off to the far east for their vacation.
They checked into their hotel, Jade's Exclusive Villas, and immediately began enjoying the sites
Soaking in the hotsprings
Taking some tea in Far East style
They also booked their first tour -- a helicopter tour of the bamboo forest
Unfortunately due to a bad chance card, their tour was cut short.
When they returned from the tour they decided to check out the Zen Gardens. Julio groomed the Zen Garden
Tyrone met a ninja who asked him a riddle -- if he answered correctly he could learn how to teleport...
Alas, Tyrone didn't get the answer correct and the ninja disappeared ((bummer!))
Julio and Tyrone enjoyed some Chirashi before heading back to the hotel for the night.
The next day while Tyrone was still asleep, Julio mingled with the locals
When Tyrone woke up, they took their second tour -- a bus tour through town
They all earned a skill point for their smart thinking!
When they got back from their tour, Tyrone decided it was time to try and find the Pagoda in the Shadows, he had been curious about it since they arrived
At the Pagoda, they met a curious old man.
After some tea and chatter, the old man agreed to share the dragon legend with Tyrone and Julio.
After the story, Tyrone forgave Julio ((yay!))
The next day, while Julio was relaxing at the hotel, Tyrone went off to learn the accu-pressure massage
Tyrone went back to to the hotel to pick up Julio and they headed off to the park to press their luck...
((they both ended up with poison ivy!))
and play some MahJong
They also booked the last tour of their trip -- a river boat ride
First poison ivy... now Bees... /facepalm! Luck was not with them on the last day of their vacation
The next morning they checked out of the hotel and headed back to Silvervale
Final thought on vacation: Jade's Exclusive Villas may look nice and it's reasonably priced... however the housekeeping staff SUCKS! Here's a shot of the restroom in the hotel lobby at the end of their trip (which was 4 days, 3 nights)
Feeling relaxed and refreshed from their vacation, Julio brings home a promotion...
And a friend who helps him out with a discount on furnishings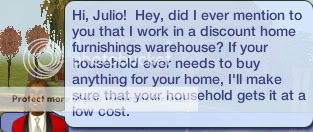 Their first night back home a burglar breaks in ((and I didn't install an alarm!))
She is able to steal the fountain and the bookshelf before the cops show up
Luckily the police are able to apprehend the burglar and Julio and Tyrone are reimbursed for what was stolen
The promotions keep rolling in
((Tyrone had off the two days after they got back from vacation so he only got one additional promotion))
Finally, at the end of the week it's time for Tyrone and Julio to transition into elders
Scoring: 1 point for Julio's Cuisine hobby plaque
((Well that's it for the Eichs. This was my first experience with Bon Voyage play and it was pretty fun trying to get all the achievements -- Tyrone ended up with 13 and Julio with 12. They're both really close to top of career so that will be the focus next round. With Darren and Melody moving back in and increasing their friend counts, it shouldn't be too hard to get them perma-plat! Tune in for Guy and Sofia's wedding next!))