Last week, Mathew and Kenya enjoyed their time alone in the house although they weren't really alone as Margery and Jessie took to haunting virtually every night of the week. Meanwhile, Allan graduated from Sim State University and he and his girlfriend, Jaiden Hurt, have moved back into the Pushard home. Lets see what happened this week ((I'll tell you now... it was a doosey))
After heading out to the store to get some new duds, Allan proposed to Jaiden
of course she accepted but neither one of them was ready to tie the knot yet as they both wanted to get established on their respective career paths first.
The family took to Jaiden almost instantly
Especially Leroy
Kenya was awarded her nature hobby plaque while she was off at work
The family was also rewarded with a genie lamp
Since Jaiden got the make a while at college, Allan, Mathew and Kenya all wished for peace of mind
Since there were no available positions in the Athletic career, Jaiden took to tending the garden in the afternoons
Leroy passed on to the big doggie park in the sky ((I was AFK and missed it :( ))
The Pushards got a few networking benefits
This random guy called up Allan and offered him some furnature discounts
NO, you never mentioned it because Allan has never met you before!
Mathew brought Jasmine Raymond home from work and she offered him a free product sample of a flat screen TV -- neat!
One evening Jaiden woke up to a surprise
whoops -- looks like a shotgun wedding might be in order.
Since there was a little one on the way, and the criminal career track didn't have any openings, Allan decided to take a position in the culinary career because it closely matched his skills
The Pushard dogs don't seem to have any luck with the stinky skunk -- this time it was Suzi though
Allan gets a hobby chance card:
and a promotion:
So... remember that random professor back at uni who crashed the toga party? Yeah... she's the friend that Allan brought home from work... she must be moonlighting.
Jaiden is spending the majority of her maternity leave in the garden
Here she is with baby bump #2
The next morning Cymroil's time comes to an end
farewell Cym!
Kenya also chooses a secondary aspiration of Fortune
And Allan gets a nasty chance card...
Looks like that shot-gun wedding is going to have to wait until next round :(
Even though he made a bad decision, Allan still gets promoted and reaches the top of the Culinary career
As they are getting out of the carpool, it's time for Mathew to head on the the next life
Well at least the inheritance makes up for the bad chance card earlier
Here's Mathew's Platinum grave (thanks to the genie lamp)
While Allan and Kenya were outside mourning Mathew's death, Jaiden went into labor
Welcome to Silvervale baby Victoria!
Looks like she has her Dad's complexion and her mom's hair
As soon as Jaiden got baby Victoria settled in, she found a job in the Athletic career
And the next day she brought home a promotion
That evening the ghost of Leroy made an appearance
I thought it was cute that the dogs had ghosts...
...until this happened
Jaiden was taking a bath and minding her own business when Leroy hopped into the tub and scared her to death!!!
Lucily Allan was just lounging around and was able to make it to the bathroom in time to plead for Jaiden's life
The grim reaper made Allan choose which hand the bead was in... and Allan chose correctly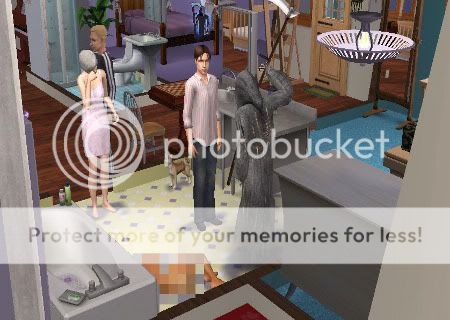 After Jaiden had been saved from death, Allan was shocked that the whole thing went on while she was naked
The next day, Jaiden got another promotion, she looks more happy to be alive than anything
She and Kenya were working so hard in the garden over the past week that Jaiden thought it was time to join the garden club
Here's my favorite tid-bit from the garden club inspection ((it made me lol))
Despite one dead plant stuck in the corner between the house and the fence, Jaiden got a high enough score to qualify for garden club membership. She was even eligible to receive the coveted wishing well
During the confusion of the garden club visit, I almost missed the grim reaper coming for Kenya
Deaths in this town seem to come at the most inopportune times don't they.
Scoring: 5 Points (1 point for Kenya's nature hobby plaque, 1 point for Allan reaching top of the Culinary Career, 1 point for baby Victoria, 1 point for Mathew's platinum grave, 1 point for Kenya's platinum grave)
Household Net-Worth: 101, 808
((Well that wraps it up for round 5 at the Pushard house... I told you it was eventful. After all the scares in this house in the last 2 rounds, I've sent the tombstones to the cemetery... the 5 point bonus just isn't worth it especially since I almost lost Jaiden to a stupid doggie ghost! On to the Teer house next))