When last we visited Pamela Devivio she had taken a vacation to Three Lakes where she met many an eligible lumberjack to woohoo with. Pamela returned from vacation with the mysterious want to woohoo with 5 service sims. She got lucky with two - the fireman, Neil LeTourneau, and the maid, Reminton Harris. We left Pamela chatting up the Bartender at a local club with 16/20 woohoos. Will Pamela achieve her want of service sim woohoo and finally fulfill her lifetime want? Lets see...
Pamela was pretty wealthy living by herself so she decided to buy a nice cottage close to the apartment she was renting on GoldTone Road.
Sadie stopped over to chat and ended up spending some quality time with Pamela
Pamela really had it bad for an old fling, Jack Copur and decided, against her better judgement, to invite him over again
The next day after a nice breakfast with Jack, Pamela wasn't feeling so well -- must be the stress of moving right?
Oh well... a little stomach upset wasn't enough to deter Pamela from her goals. She invited over the Marcel Hart, the host from Rodney's, for a little romance
In the middle of their date, Pamela got a disturbing surprise
A little belly pudge didn't bother Marcel, he still wanted to finish his date with Pamela
((This was a funny shot so I'm including it))
A few short days later it was time for Pamela to give birth
Welcome to Silvervale Flora Devivio. ((I was hoping for a redhead /sad))
All of Pamela's romantic exploits weren't making her too many friends so the trashcan spent more time spilled over on the sidewalk than in its upright position. Sure enough, the roaches ensued. Pamela put a positive spin on the roach situation and looked at it as an opportunity.
Why yes Rabi... we'd like you to come over and take care of the... er... roaches ::evil grin::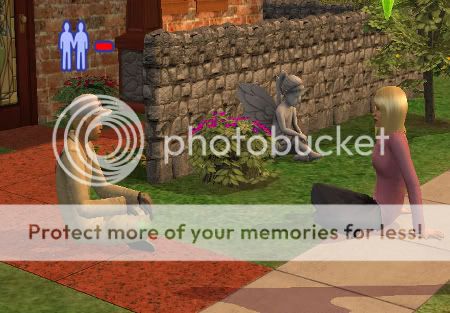 Ravi was a little annoyed about Pamela not letting him do his job but after a while he warmed up to her
To Pamela's chagrin, the roaches never did get sprayed so she had to do it herself
Soon it was time for a double birthday
Flora turned into a toddler
((wow she looks a lot like her daddy))
And Pamela transitioned into elderhood
Unusual for a Romance Sim, Pamela rolled up wants to interact with Flora
At the end of the week, Pamela fulfills her lifetime goal with the help of they gypsy matchmaker