We last saw Anise and Keith as the most well behaved couple at the Annya Var house. Now they're back in the hood so lets see what they get up to...
Lee/Eich (lot 16) Monday-Saturday
Pictured: Keith Lee, Anise Eich
With some help from Anise's family, and some money leftover from their college scholarships, Anise and Keith were able to afford a nice home back in Silvervale (too bad they were only able to sparsely furnish it after moving in!)
After settling into the house, they went by Bluewater Village to get some new clothes... BE GONE green puffy vest that Keith transitioned into!
Keith managed to stumble upon a high paying job in his preferred field of Business on his day of adulthood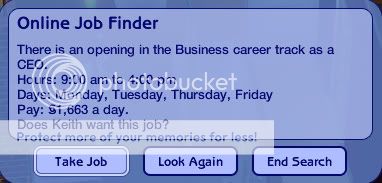 That evening, they had some family and friends over for a small housewarming party
Being a CEO of a major company was something Keith always desired... although he wasn't expecting that the company would send a helicopter to pick him up on his first day on the job
The job fit Keith so well that it didn't take him long to reach the top of the field, and fulfill his lifetime want in the process
Even after the big promotion, things were quiet in the household. Neither Keith, nor Anise were in any hurry to get married or have children... (neither rolled the wants and there weren't any chimes /sadface). Most evenings they just sat around and read
Or napped...
It took Anise a little bit longer, but she was finally able to land a mid-level position in the Intelligence career
The success in the job market allowed Anise enough aspiration points to declare a secondary aspiration... being raised on Grilled Cheese, it was no question what she would choose
Scoring: 2 points (1 point for Keith reaching TOC business, 1 point for Keith fulfilling his LTW)
((Well I don't know why it took me so damn long to update this, I've had it played for a really long time... I guess I'm just a slacker /shrugs. There really isn't anything going on in this house. I'm going to do what a lot of you do, and not force my prosperity sims to marry or have children if they don't want to/risky woohoo doesn't kick in. Columbia is up next... and I'm writing it now, so another update in 20ish minutes, lol))