And we're off... Round 10!
Last round at the Pushard's, Jaiden continued to make friends and worked at her grocery store, training James to one day take over. She also hired a new employee who wasn't really working out but refused to quit. Allan dappled in pottery and earned a gold pottery badge. In his precious free time, James headed downtown and met up with an unexpected young lady, Magenta Devivio, who was the same age as his sister. James and Magenta went on a few dates and really hit it off. Victoria went on a few dates with her friend, Keith Lee, but her heart was still with her boyfriend, Emmett Hoppes who was off at Sim State. At the end of the round, Victoria went off to university where she could be reunited with him. Lets see how things go this round as Jaiden and Allan age in to elders and the last of their children goes off to college.
We're going to ring in the beginning of a new round with a Birthday party. Jaiden, being a popularity sim, couldn't have been more excited... any excuse to throw a party, she thought. She conveniently ignored the fact that the party was to ring in she and Allan entering their Golden Years
The guests started to arrive right on cue
Allan and Jaiden entertained their guests a little before it was time for cake
When everyone was settled in, the group went into the dining room to witness Allan and Jaiden's transition into Elderhood
As soon as the candles were extinguished it seemed that Allan and Jaiden could feel the years wash over them, they both had everything they wanted so far in life, it was time to sit back and enjoy it
Even as old fogies, Allan and Jaiden knew how to have a good time. The guests all enjoyed themselves thoroughly, even James and Victoria
The party turned out to be a good time for all
The next morning, after Breakfast, Allan gave Jaiden her birthday present. Jaiden was a little confused why he didn't give it to her the evening before, but she happily accepted it nonetheless
After that, it was back to business. Jaiden harvested the winter vegetables and packed them into crates to head off to the market
When she had finished packing up the harvest, Jaiden was surprised to see a sprite-ly looking lady waiting for her. The young woman told Jaiden that he years of commitment to nature had earned her recognition with the nature club.
The market was bustling with people eager to get some fresh produce for spring
It was so busy all of Jaiden's employees were hustling. Jaiden was glad that she had brought James along to help her on the register that particular afternoon. He wasn't very good at it yet, but eventually he'd get the hang of it
It was at the store that Jaiden could really feel her age catching up with her. She couldn't work as hard as she used to without stopping for frequent coffee breaks
While Jaiden and James were off at the store, Allan was having a rough day. First, his dog, Suzi died. She'd been with him his entire adult life, he took it pretty hard
It also seemed that nobody was home that day, he tried calling many of his friends, and all he got was answering machines
Allan thought he was hallucinating when he saw a giant pink bunny show up in his foyer. Strangely the company of the imaginary bunny made him feel less lonely though
That evening when they returned from the store, James applied for his scholarships
and went off to join up with his sister and girlfriend at Sim State
After hearing of Allan's plight the previous day, and feeling a little empty nest herself, Jaiden went out to the wishing well and made a wish that they would never feel lonely again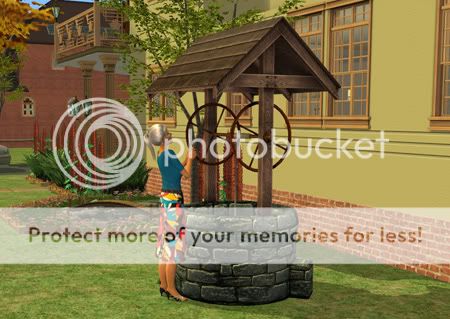 Minutes later, as though through magic, she was surrounded by close friends
Scoring: 0 points (1 point for Jaiden's nature hobby plaque, -1 point for a social bunny visit)
Household Net-Worth:
whoops didn't write it down!
will check later
((This was a pretty uneventful round at the Pushard house. I actually find Jaiden and Allan more endearing as elders. The jar card for this lot was actually no career rewards for 1 round, but I expanded it to be no aspiration rewards as well... Running a business was really difficult without use of the energizer, and there aren't any snapdragons in the store either. The social bunny was a complete accident. Usually Allan does his own thing, I rarely even look at his needs because he usually takes care of them himself. When I looked it was too late and the social bunny had already shown up. I can't wait to see James as a YA, he's still sitting in the sim bin so I don't know if his features will balance out or not. Magenta is waiting for him at the Greek house. We're off to the Teer household next!))